SP Helpers
Go here to sign up to hear about ways you can help out at SP!
Budokon Yoga Spring
Thursday, 1 February 2018 19:00 — Monday, 30 April 2018 20:00 | OWU Room (Reading Room) | sp-athletics-chair [at] mit.edu
A class taught by SP resident Geeticka Chauhan. Budokon Yoga is a variant of yoga incorporating poses influenced by martial arts and animal locomotion. The class will teach participants pose sequences from this discipline, and overall aid in flexibility, balance, and strength.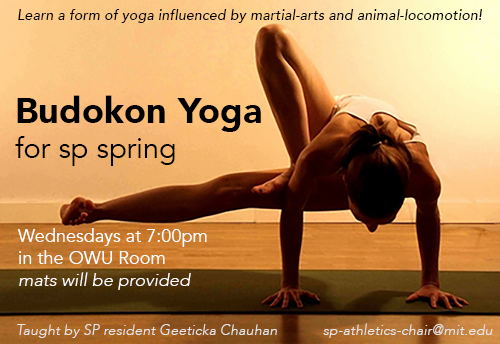 SP February Brunch
Sunday, February 11, 2018 12:00 – 14:00 | SP MP Room | sp-brunch-chair [at] mit.edu
Celebrate the beginning of the spring semester with great food at SP! Bring your own plates and utensils to keep SP and our community green! New and old helpers always welcome from 8am - 2pm + they get dibbs on food!