SP Helpers
Go here to sign up to hear about ways you can help out at SP!
Budokon Yoga Spring
Thursday, 1 February 2018 19:00 — Monday, 30 April 2018 20:00 | OWU Room (Reading Room) | sp-athletics-chair [at] mit.edu
A class taught by SP resident Geeticka Chauhan. Budokon Yoga is a variant of yoga incorporating poses influenced by martial arts and animal locomotion. The class will teach participants pose sequences from this discipline, and overall aid in flexibility, balance, and strength.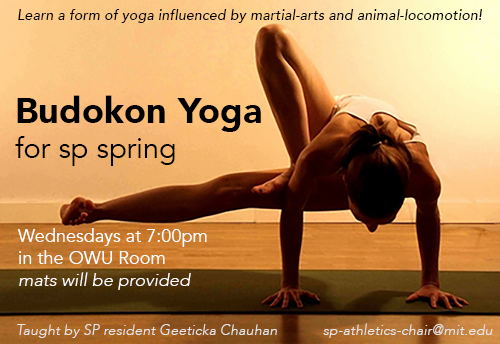 Sid-Pac Presidential Fellows Distinguished Lecture: Professor Andrew Lo
Wednesday, February 28, 2018 18:00 – 20:30 | MP room | sp-cosi-chair [at] mit.edu
Title: Moore's Law vs. Murphy's Law in the Financial System, by Professor Andrew Lo of MIT Sloan. Prof. Lo is the Charles E. and Susan T. Harris Professor, Director of MIT's lab for Financial Engineering, and founder of AlphaSimplex Group. He will talk about the positive influences and potential drawbacks of emerging technologies in the context of financial systems.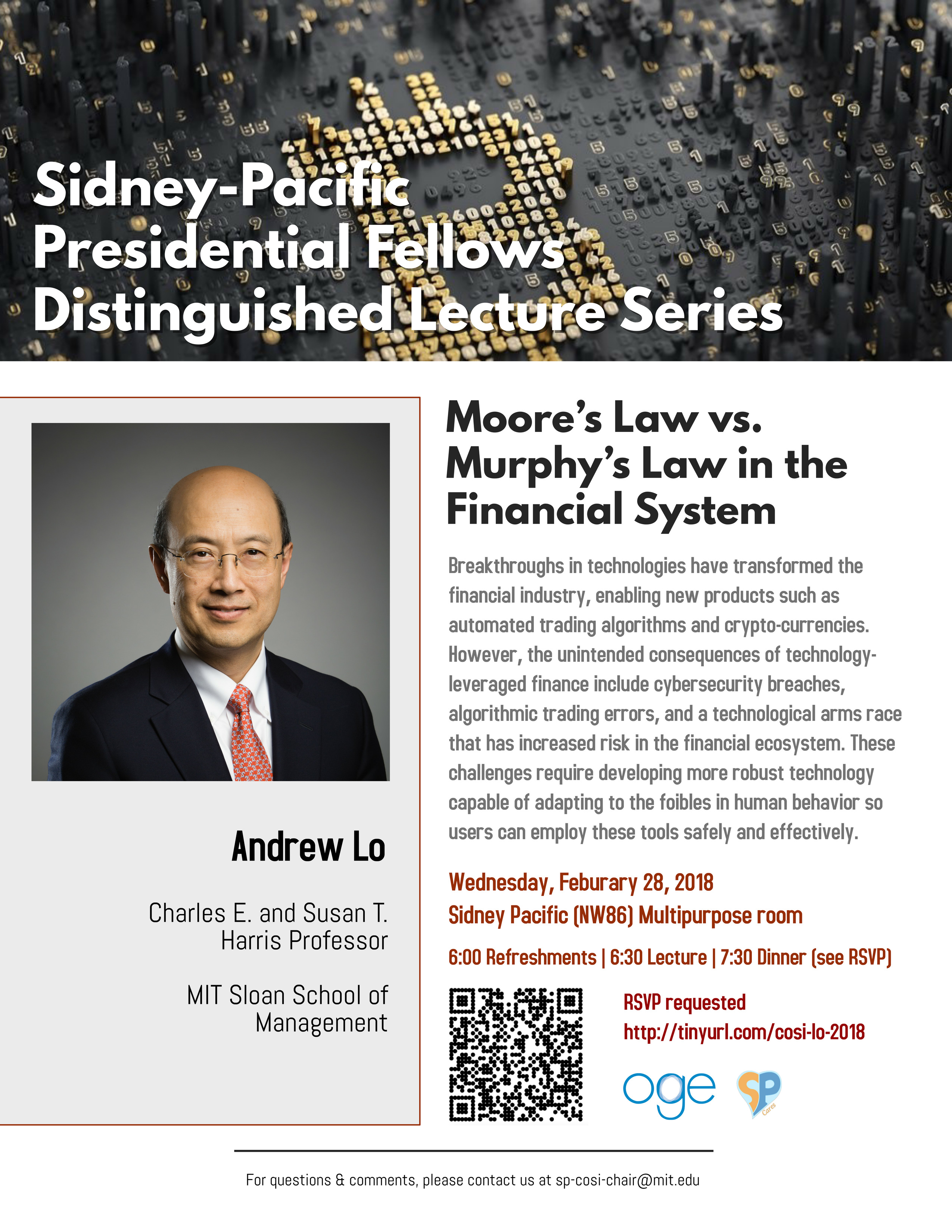 Sidney-Pacific Research Art Night: A Sci-Art Coffee Hour!
Wednesday, March 7, 2018 21:00 – 22:00 | MP room | sp-social-chair [at] mit.edu
The event will be held from 9 to 10 PM on Wednesday, March 7 (open to the MIT community) during the Coffee Hour time. Our goal is to let students socialize and creatively explain their research in a fun but formal setting—a combination research image/art expo and tasty Coffee Hour food, with special prizes for participants.

We're accepting submissions from all MIT graduate students from now until February 28th, 11:00 pm! The entry form is here. Upload your images (40 x 30 inches max) here.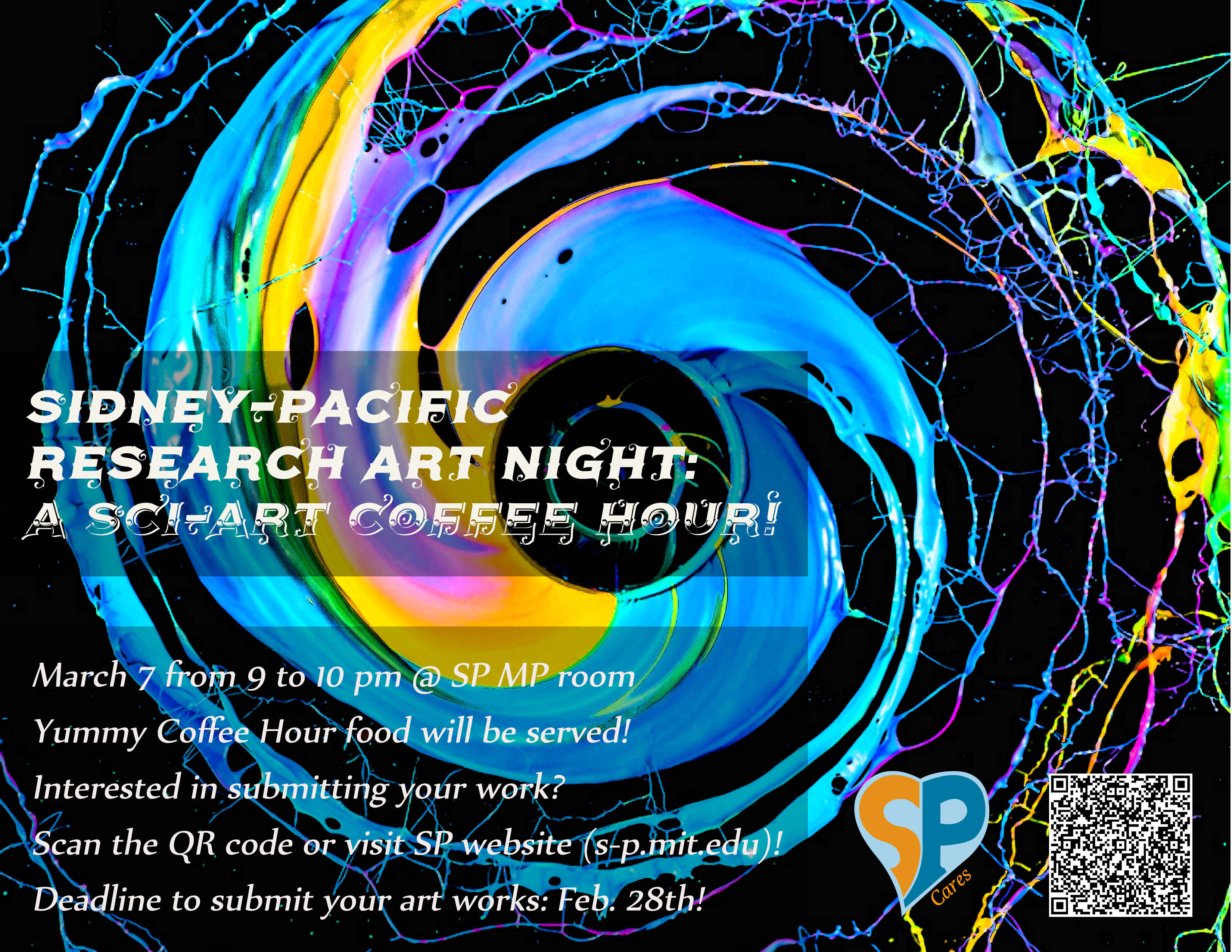 Red Baraat - Festival of Colors
Friday, March 9, 2018 20:00 – 22:30 | The Sinclair, Cambridge, MA | sp-music-chair [at] mit.edu
Red Baraat is a 2-time NPR-featured band which fuses bhangra, jazz, funk, hip-hop and rock to get audiences dancing along. Having performed at the White House, TED, and even the Olympics, the band is currently on its 7th annual Festival of Colors tour, celebrating the festival of Holi with a colorful array of South Asian sounds. Also performing: Punjabtronix, DJ Rekha Tickets: $22 after subsidy. Meet in the S-P lobby at 7:30pm to leave for the Sinclair (up in Harvard Sq.) on the #1 bus.